aren't these the cutest little glasses?!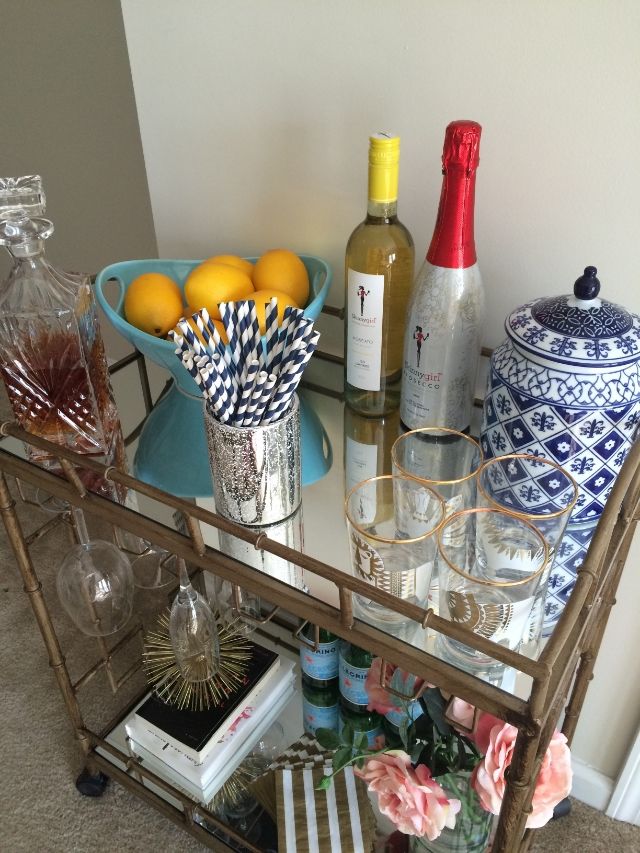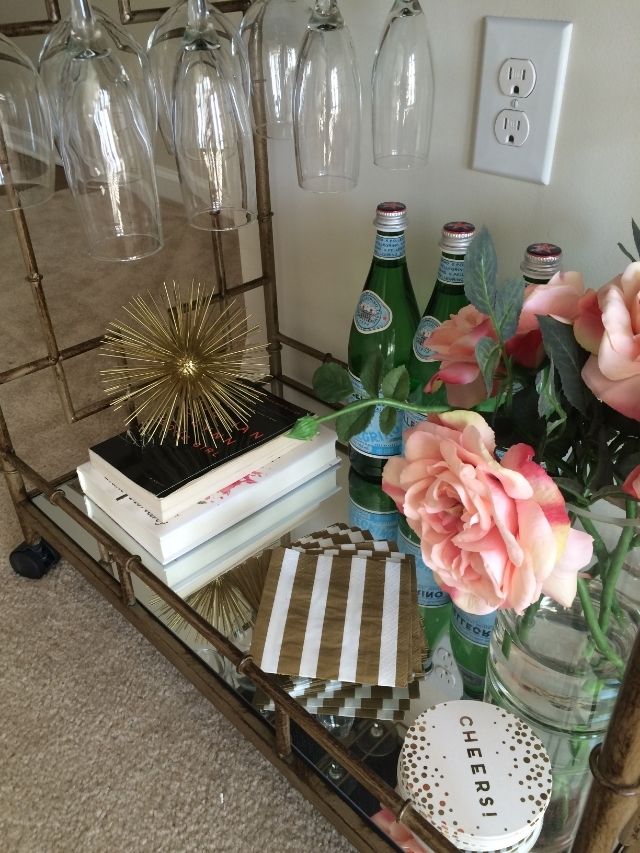 (don't mind the outlet! lol)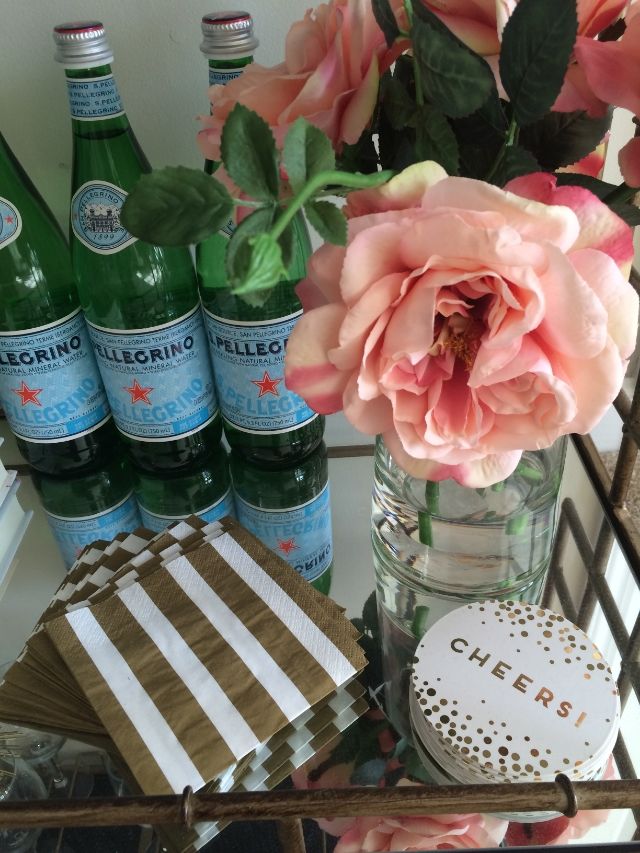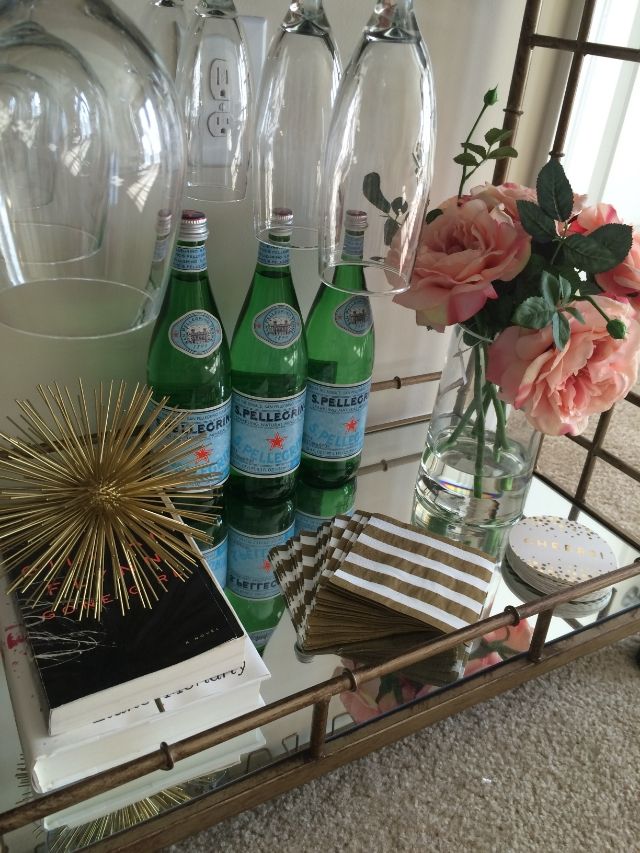 Today I am sharing my newly finished bar cart (I am kind of obsessed with it!). After moving into my new apartment, I knew I wanted to buy a bar cart. It was the first item on my 'must buy' list. There are a few elements to start with to make sure your bar cart is not just practical, but also stylish. I decided to make put together a little buying guide with some tips to create a great looking bar cart. There is obviously no "best" way to style your bar cart, and no doubt you'll want to put your own unique spin on things. However, below are some items that tend to show up again and again…
THE CART: Let's start with the bar cart itself. The story behind my bar cart is actually kind of funny. I originally wanted this bar cart from Target. It goes in and out of stock regularly, so if it is out of stock just check again in a week! I was frequently stalking the Target website, because I wanted this particular one. The cart is gold brass, has hanging wine racks, and it's at an affordable price…all the things I wanted! After finding out the bar cart was back in stock, I went to HomeGoods with my roommate for one last search of an already assembled bar cart…And ta-daaa an almost identical (or maybe identical?) bar cart was sitting right there when I walked in the doors! Of course there was only one in the store, so I was pushing it around the store to prevent anyone else from buying it. As I was pushing it towards the check out, one of the wheels fell off…. I was SO upset! However, due to the hassling of my roommate I got it for an additional 30% off, and we fixed the wheel! Good as new 😉 Here is a list of Target's current bar carts.
COOL GLASSES: My glassware set is from Jonathan Adler's Happy Chic line. However, they are last season and out of stock everywhere! A great alternative to add some personality to your cart is this metallic print glassware set by Mikasa.
DECORATIVE PIECES: To compliment my gold theme and to add some spunk to my bar cart, I order this scoppio sphere from Z Gallerie. I LOVE it! It's a really great decor piece that receives tons of compliments.
FLOWERS: Oh my goodness, don't forget the flowers! Nearly every bar cart out there has flowers on it! Don't leave yours bare- find a vase and fill it up with some pretty blooms. If you don't want to worry about watering them, go to your local TJ Maxx, Michael's, or HomeGoods to snag up some faux flowers. They'll never know after a few cocktails…
PAPER STRAWS: These striped paper straws from Target add some color at an amazing price (only $3!). They're a really playful element that you won't want to exclude. Everyone wants a fun straw with their cocktail!
NAPKINS AND COASTERS: My striped napkins are from Target and my 'Cheers' coasters are from Pier 1 Imports. Unfortunately, the coasters are not available online anymore, but these are super cute! Sugar Paper has very similar 'Cheers' coasters .. they're almost identical to mine!
BAR ARTWORK: Another way to flare up your bar cart is through artwork or tassel garland! I really love this gold foil print from Etsy. Exactly, why should happy hour only last an hour? Who decided that anyways? I didn't have room for a print on my bar cart, so I opted for tassel garland. Mine is from Target (unavailable online), but Etsy provides a great array of choices.
DECANTER: How else are you going to display your beau's favorite scotch or bourbon? I searched in every store possible to find a decanter that I liked, but I ended up buying one from Amazon.. so typical of me. This is my decanter, and I have no complaints!
DRINKS: Finally, what the bar cart is all about… drinks!! I have San Pellegrino sparkling water for my designated driver friends, and I have Woodford Reserve (boyfriend's favorite) in the decanter. Of course, I have Skinny Girl moscato and prosecco sparkling wine! Gotta support my girl Bethenny Frankel! Who else is excited for her Real Housewives return?!
So those are my necessities for a perfect bar cart. What are yours?